Norwegian Selbu Ladies GLOVES
LEARN TO KNIT THE BEAUTIFUL NORWEGIAN SELBU LADIES GLOVES!
Take a sneak peek into the course:
In 1852, a young girl called Marit (11yrs) was living in a very secluded valley in Norway. She was helping out on the farm by hearding the cattle and sheep at the "Seter". (A "Seter" is a smaller version of the farm, up in the mountains. The cattle/sheep would be moved to the "Seter" during the summer months, an a "budeie" (milkmaid) would live at the Seter and be in charge of the cattle and sheep.)
Young Marit was used to working. Even though she was just 11 years old, she was already a skilled worker, and knew how to herd the cattle, and how to weave fabric. At the Seter, she spent her time working, and also knitting with the home spun white yarn. But, as the farm also had sheep with black wool, she had brought along some of that wool/yarn as well.
And then she tries something completely new.

Knitting a few stitches with the white yarn, and then some with the black yarn. She keeps trying and testing, and then she suddenly realizes that the contrast between the white and the black yarn will make it possible to create all kinds of patterns in the knitting. She gets excited, and shows her new knitting to the "budeie", and they both kept on experimenting on knitting with two colors, white and black. A new knitting technique was born.

Knitting with two threads and two colors became popular in Selbu from 1856, and the technique was passed down from mother to daughter, for generations. (And still is.)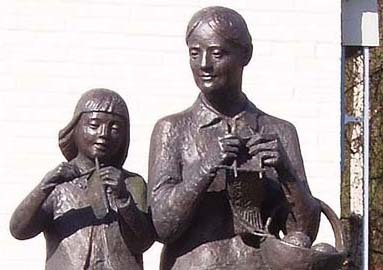 "Mother`s heritage", Sivert Donali, 2004
IN THIS COURSE, you will learn to knit the STUNNINGLY BEAUTIFUL Norwegian Selbu Ladies Gloves!
 You will get access to EASY TO FOLLOW Video tutorials + written pattern/chart, and you will NEVER get stuck, that`s a PROMISE!
LIFETIME ACCESS TO THE COURSE
LOG IN AT YOUR OWN CONVENIENCE
KNIT IN YOUR OWN TEMPO, THERE ARE NO EXPIRY DATES
NO ADDITIONAL COSTS - EVER!
INFORMATION ABOUT YARN AND NEEDLES:
Yardage:
Yarn: Fingering weight yarn, original yarn: RAUMA 2 PL - "Gammelserie" 100% wool
Substitute suggestion (and 10% discount): Sandnes Sisu
Other substitute yarn suggestions:
https://yarnsub.com/yarns/rauma/2-ply_gammelserie
 Base color (ex: white) 50 grams
Pattern color (ex: black) 50 grams
Needles: 
EUR: 2 mm, US: 0, UK: 14
Double Pointed Needles (DPN`s)  is suggested, but circular needles and Magic Loop Technique can also be used.
THE COURSE STARTS DECEMBER 10TH 2019
 YOU`LL ABSOLUTELY LOVE THIS!